Introduction and basics
Hi and welcome. My name is Jay and I'm the guy that keep this site running. English is not my mother tongue, so I hope you'll forgive me if I torture your language. I've been running this site with great passion since 1999, so much time passed since then, now I can say this site represents a piece of the Internet history. For many people it has been a primary school when information about the fetish world were not easy to find. I'm so proud I'm one of the firsts who came in this virtual world to help people discovering new sides of their sexuality and having a more open sexual life. If you're one of them, I'm opening a blog soon for you to write your experience.
Fetish Bank is a free site, its main pourpose is to provide you links to kinky websites and quality resources on the Internet. This includes paysites, amateur pages, forums, tube videos, thumbnail gallery posts, sexy shops, dating services and any other site that can be of interest of the demaning kinky surfer.
I do my best to discover and provide these links to you. Sometimes the site owners contact me asking for a listing. In other cases users, just like you, send me their favorite links. So, if you know a site that you think it should be listed here, just send it to me with this
form
.
Structure and content of the site
The core of the site is the
Main Index
, from that page you can access to all the sections of the site with just one click. At the very top of every page, including the main index, there is the main navigation menu bar. On the right side there's a link to our
twitter account
, we use it a lot to interact with the users, so if you have an account you're welcome to follow us. The left part of the top menu bar provides quick links to the most visited pages. Let's see it in details: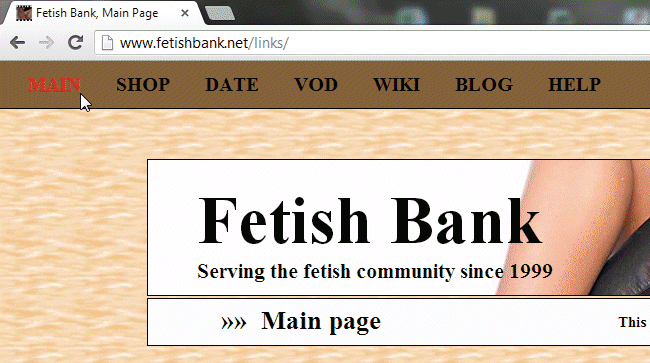 The first button drives you to the main page. Then there are quick links to the
shopping page
,
dating services
page, a link to a great
video on demand
(paid service, courtesy of one of my partners), a wiki section (under development), the blog (under development) and this page.
The categories of the main index
The main page is the place where your trip begin. The first thing you should do is to locate your specific areas of interest. Every box is a logical group of fetishisms. Your will find titles such as: "hair fetish and hair color" or "gay, lesbian and bisex". First find the group you like, then inside that group you'll find links to more detailed categories. Top of the page are classical categories and vanilla stuff. The more down you go in the main page the more extreme stuff you'll find. Proceed at your own risk. lol.
| | | | | |
| --- | --- | --- | --- | --- |
| | | | | |
| Enter Page | Main Page | Premium Sites | Resources | Tgp, Tubes, Links |
Once you've found your favorite category click the link and I'll enter in what I call "a category page". Every category page is divived in 6 subpages. In the first page, menu PREMIUM, there are links to sites with pictures, movies and other interactive content. Most of them are commercial sites with produce their own content, so most of them require a membership to get access to the content. Prices may vary from $10 to $40. Usually for a small price you get a lot of good content, anyway, my suggestion is to check more than one site before buying a membership, so you can find what you want at the price you want.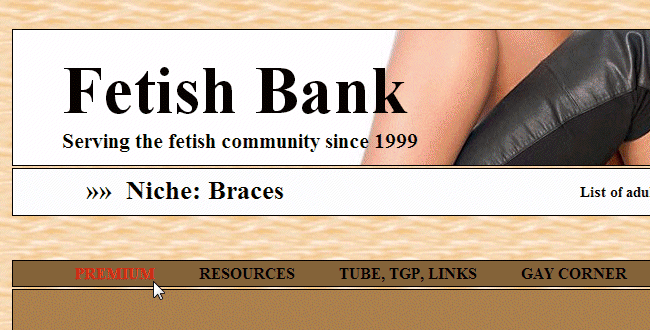 The second subpage is RESOURCES. It includes very nice stuff such as forums, social networks, amateur pages, groups, web cams, blogs, sexy lines, professional services and sites in foreign languages. The following subpage is TUBE, TGP, LINKS. If the name is not saying enough, there you can find: at the very top sites with movie archives (most of them are great but commercial), then links to free video tubes, thumbnails gallery posts and links to other adult directories. The GAY CORNER has links to gay and shemale sites, in subcategories. Every page is divided into logical subcategories and I may add more subcategories as the number of links grow. If you have a quick look at these subpages I'm talking about you'll understand immediately that every single site listed there is a gold mine. These sections are not a dump of garbage, there's a lot of lovely stuff !
Try to believe, and, once you realize how good is this stuff please share these pages on your favourites social networks. It costs nothing to you, but it has a great value for me. On the left side of each page there's a special vertical toolbar that allow you to do that in few clicks.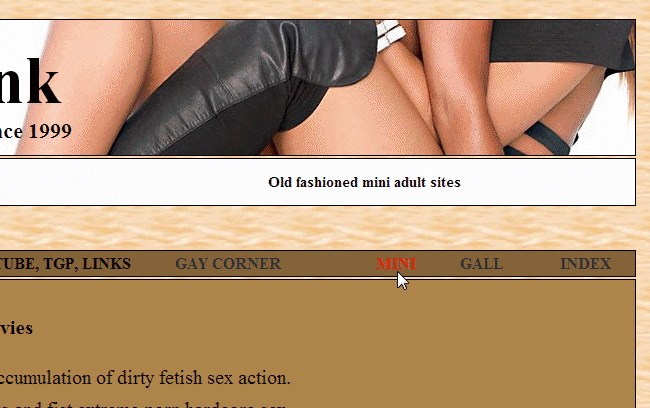 The next entries of the category navigation bar are MINI and GALL, respectively for "mini sites with free pictures" and "thumbnail galleries". All the free pictures and small clips are here. It is a huge archive of stuff, thousands and thousands of links. The last menu entry INDEX bring you back to the main index page.
At the very bottom of each page there's a form to report broken links are crappy sites, in case you find one. Please use it, it helps to keep this site clean. At the very bottom there's the last navigation bar with a link to the contact page and other links for webmasters willing to list their sites.
Future improvements and coming soon features
At the begin of year 2013 I completely redisegned the site, this guide is also part of that project. Here is a list of thing I'm currently working on and that will appear soon on the site:
New categories: mom and girls, mom and boys, small cocks, pony boys, cbt...
New soft categories: girls in socks, unnatural hair colors, curly hair, spandex, satin, kissing...
More regional categories: Arab porn, Italian porn, Canadian porn, French porn and so on.
A fetish wiki, to help you understaning the terms of the fetish world Done!
A blog where to post news, articles, contests and user submitted content Done!
A page with fetish stories and a page with adult interactive games.
Other things I would like to add, but with a lower priority (there are a few tech challenges):
A chatboard page, where users can chat in real time
A fetish forum with many categories, where users can post messages
A decent search form function. I now the site sucks without it Done!
The possibility to register and have your own custom pages, where to add your favorite links
A video guide, possibly with one of my slutty friends in latex that show you how the site works.
For now it is all. I hope you will enjoy more the site after you read this guide. The last part of this page is a work in progress project so from time to time come back to check what going on...
comments and suggestions
always welcome. Have a good day. Jay