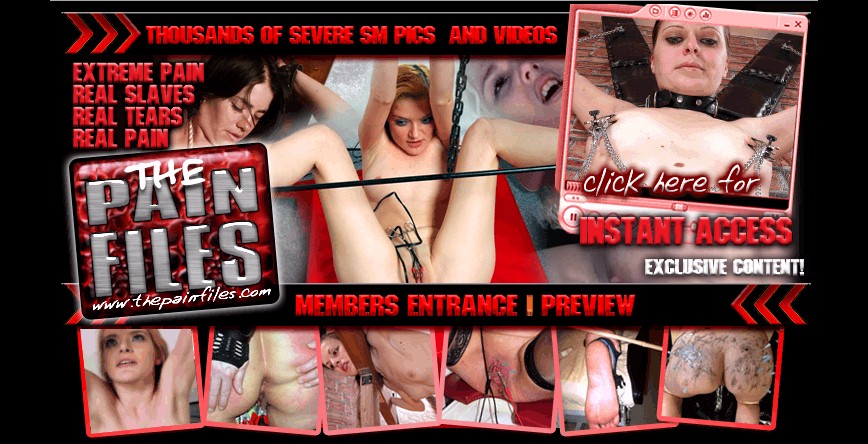 If hardcore female masochism is your thing, and you are getting tired of seeing porn stars acting out formulaic BDSM scenes, The Pain Files is for you.
Running since 2000, it is one of the most established BDSM sites on the web, and boasts a massive archive of full length hard SM and pain movies and photographs, all of which members of the site can stream without limit, or download and keep.
The videos are offered in a variety of formats for any imaginable device, along with a full hi-def Windows Media or QuickTime version of each.
The big difference between The Pain Files and most BDSM sites on the web is that the scenes are shot with genuine lifestyle masochistic slave-girls, and all action on the site is very real indeed. As a result the site is not for the faint-hearted, featuring some of the hardest SM scenes you will find anywhere on the web, including needle-play, electro-shock play, heavy clamping and whipping and severe humiliation scenes. There is no acting on this site – the reactions from the girls are all clearly 100% genuine, as are the pain, fear and explosive orgasms depicted.
The content is a delightful combination of professionally shot, exclusive, in house scenes, featuring real lifestyle amateur girls who want to explore the farthest extremes of masochistic play, and genuine amateur home-made footage, contributed exclusively by members from around the world.
Beyond the 13 year archive, the site is still very much alive, featuring multiple updates every week for members. There are new faces appearing all the time, but also the chance to follow the progress of the established slaves of the site, as they delve deeper and deeper into their masochistic natures.